Include a bathroom
If you want to include a bathroom in your loft conversion, you need to choose windows that:
Can be opened to allow moisture to leave, preventing condensation and mould growth.
Well insulated windows, again to reduce the risk of condensation.
PVC material, rather than wood, so moisture doesn't damage the frame
Consider opaque windows too for added privacy without reducing light
One of our best options for bathroom loft conversion windows is the opaque PVC roof window. It's ideal for environments with lots of moisture, like bathrooms.
Get the best view
If you have a stunning view from your house, you'll likely want to make the most of it!
Our Vision or Vertica energy windows are a great choice. Pair them with an openable roof window on top to greatly increase your field of view.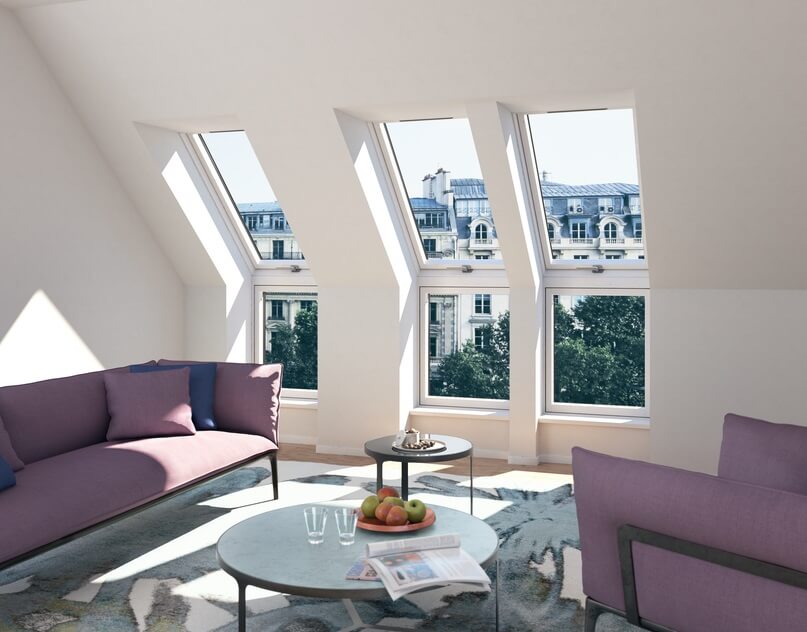 Security
The roof can be an entry point for intruders. If you're concerned about security in particular, you should select a roof window built specifically to reduce security risk.
Our Secure White roof window is a reinforced, toughened and extra welded window. It has reinforced hinges, two discrete locks and a glued pane-to-sash system to prevent dismantling. It's been rigorously tested too.
Keeping warm
While lofts can get hot in the summer, they're also well known as a key place heat escapes in the home.
If a roof is not well insulated, heat will rise through the house and escape through the roof. As you're converting your loft, be sure to keep this in mind and ensure it's well insulated.
Roof windows play a key part in insulation. You can choose whether to have double or triple glazing windows to improve insulation, as well as whether these use krypton or argon gas. There are additional options, such as the window construction itself and how this is designed to insulate the home.
Our best roof window for insulation also includes layers of heat-reflecting and sun-protective coatings to keep the home warm in winter and cool in summer.
The more insulation you want, the more expensive the window is likely to be. However, it'll save you money in the long term on heating bills!
Loft conversion window styles
The style of loft conversion window you choose will impact the overall finish and appearance of your room.
Overhead, flat windows
Flat roof windows are designed to be installed in flat roofs. They're ideal if you have a section of your loft conversion with a flat roof, rather than sloped.
They're great in rooms that don't meet the side of the building, so have no sloped walls in which to fix a 'traditional' roof window. They help to add light and make the room brighter.
Aside from loft conversion, they're also a popular choice in other types of extensions where the ground floor of a house is extended beyond the above floors.
You can get both fixed and open-able flat roof windows. It can be a good idea to use an electric opener – as is standard with our openable flat roof window – because they're often much harder to reach! Make sure you use an electric roof window blind too.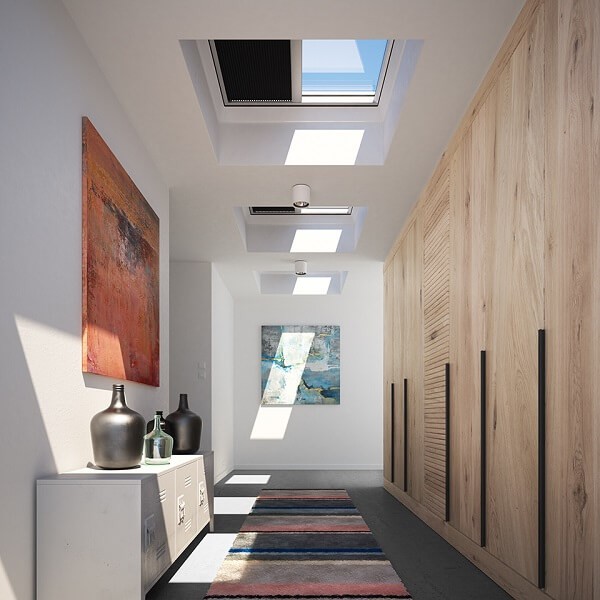 Pitched roof windows
Pitched roof windows are the most common kind of roof window. These are any roof windows installed at an angle – rather than flat or vertically. They make up most of our roof window range at Dakea.
Most loft conversions will have a sloped roof that affects at least part of the wall, which is why pitched roof windows are the most common style.
They're available in different frame materials, such as wood or PVC, as well as different insulative qualities. If you're not sure which is right for you, use our configurator tool.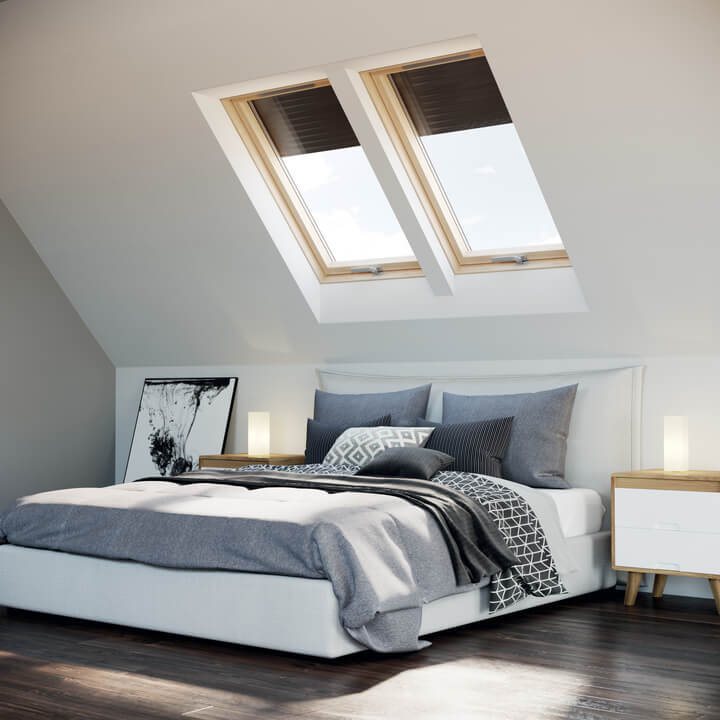 Openable
You can get both openable and fixed roof windows (ones that can't be opened). If you want a fixed window, it should always be paired with an openable one too. This is vital for ventilation control in the room, as well as fire safety.
Dormer windows
Dormer windows are vertical, installed in a dormer. This is a small structure that protrudes from the roof itself. It tends to be a more costly choice, but can add additional space if the loft conversion is very small.
Do I need planning permission to install roof windows in a loft conversion?
If you're just installing roof windows, and not making any structural changes, you probably don't need planning permission. It will most likely be covered by permitted development. However, it's worth double checking with your local authority.
If you're doing a full loft conversion that requires structural changes, you are likely to need planning permission. Talk with your contractor and/or local authority to establish what is required.
Read our full guide on how to convert a loft for more information.