Best Way to Clean a Skylight (Interior): Step-by-Step
Interior surfaces can be cleaned simply with a damp cloth, as well as using a mild, soapy water solution against tougher dirt. If the window has become dusty during installation, we recommend cleaning both the exterior and interior to deliver the best for your customer. We also advise informing your customer of the best way to clean the interior of their new window.
Make a milder version of the solution used for the exterior – water and a bit of soap – in a bucket.
If the skylights or roof windows are hard to reach, you can either use a step ladder or an extendable cleaning device. If you opt for a ladder, make sure you are safe when climbing up and down.
Soak a rag in your cleaning solution and wring it out with your hands to get rid of the excess moisture. Wipe the window.
Wait a few minutes, then wipe the window with a dry rag.
Maintaining Skylight and Roof Window Quality
Not paying attention to the condition of skylights can damage their quality. It is a good idea to inform your customers on how to keep skylights or roof windows in excellent condition, as not paying attention to the upkeep may cause the room to grow humid. If this happens, condensation can build up quickly.
Condensation can lead to:
Peeling wallpaper
Damp patches on walls and ceilings
Streaming windows
Growth of mould and mildew
Structural damage
You should inform your customers to:
Open the skylight up every so often to avoid condensation. This is easily done with Dakea Control/Control+ skylights or many of our roof windows.
Clean the skylights at least twice a year to remove debris and dirt.
Leaves and other debris can accumulate around your skylight or roof window, which can affect its ability to repel rainwater and prevent leaks. At least once a year, it is important to clear the leaves, twigs, and other debris to allow rainwater to flow freely around the window.
Find out more about how to stop window condensation in our helpful article.
Upkeep of Roof Flashing
Make sure to inform your customers that poor or deteriorated flashing is one of the biggest causes of roof window and skylight leaks. They should ensure the flashing is in a good condition and checked over regularly.
You can find our range of high quality Dakea roof flashing in our installation accessories.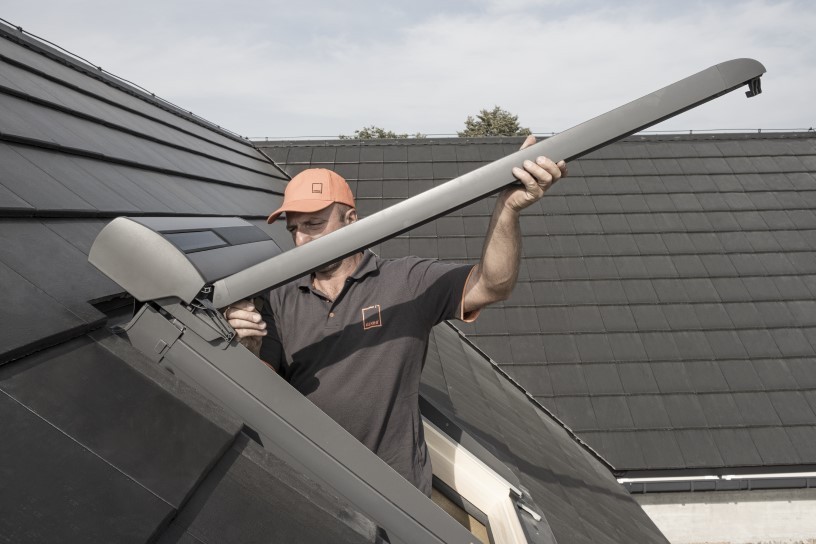 When cleaning a customer's skylight or roof window, safety is of the utmost importance. For more advice on presenting mint condition skylight or roof windows to your customer, visit our Trade Matters pages. We have loads of information for installers, roofers and other professionals.