It may be rare to see a female window fitters on site but Joanne Sampson, a new recruit, tells us why more women should follow her lead and join our industry…
For some people, a career change means more than just a new employer. For the mum-of-three Joanne Sampson, 40, from Rochdale in Greater Manchester, her new role has led to so much more.
"After 16 years working as a support worker for adults with learning disabilities and then losing my lovely mum, I felt I wanted to change my working life." That's where Nathan Seale, CEO of construction company Blue Star Developments (who work with Dakea products frequently) comes in. "I knew Nathan socially and one day he told me he needed a window installation and repair technician and said it could be something I might like to try."
Joanne might not have been the most obvious choice for such a role, as she freely admits: "I had no experience of fitting windows or even DIY. I could use a drill but I would bang a nail in with a high heel!" But Nathan saw something in Joanne that he thought needed encouraging.  Joanne says: "He knows I do power lifting so could lift the windows and I like to work hard and meet people so he thought I could do it – the great thing about Nathan is that he can see the potential in people."
So in early January this year, Joanne began her apprenticeship. She worked alongside Nathan at Blue Star Developments, fitting windows, roof windows and cat flaps as well as changing window glass in homes and developments across the Greater Manchester area and as far north as Newcastle.
"I loved it immediately but window fitting is not easy: you have to have good upper strength, learn about the installation steps to do it all correctly as well as glazing and hazards such as preventing potential leaks. I hated going up a ladder at first, particularly externally, but soon got used to it and learned how to carry equipment and lean on the tiles safely. I was definitely outside my comfort zone but now I'm up and down ladders with confidence."
After assisting Nathan for a month Joanne learned how to install windows herself: "The Dakea Ultima Energy PVC with tile flashing kit was the first roof window I fitted and it was straight forward to do –  I managed to fit it in 90 minutes. I can also change glass in a window in around 20 minutes."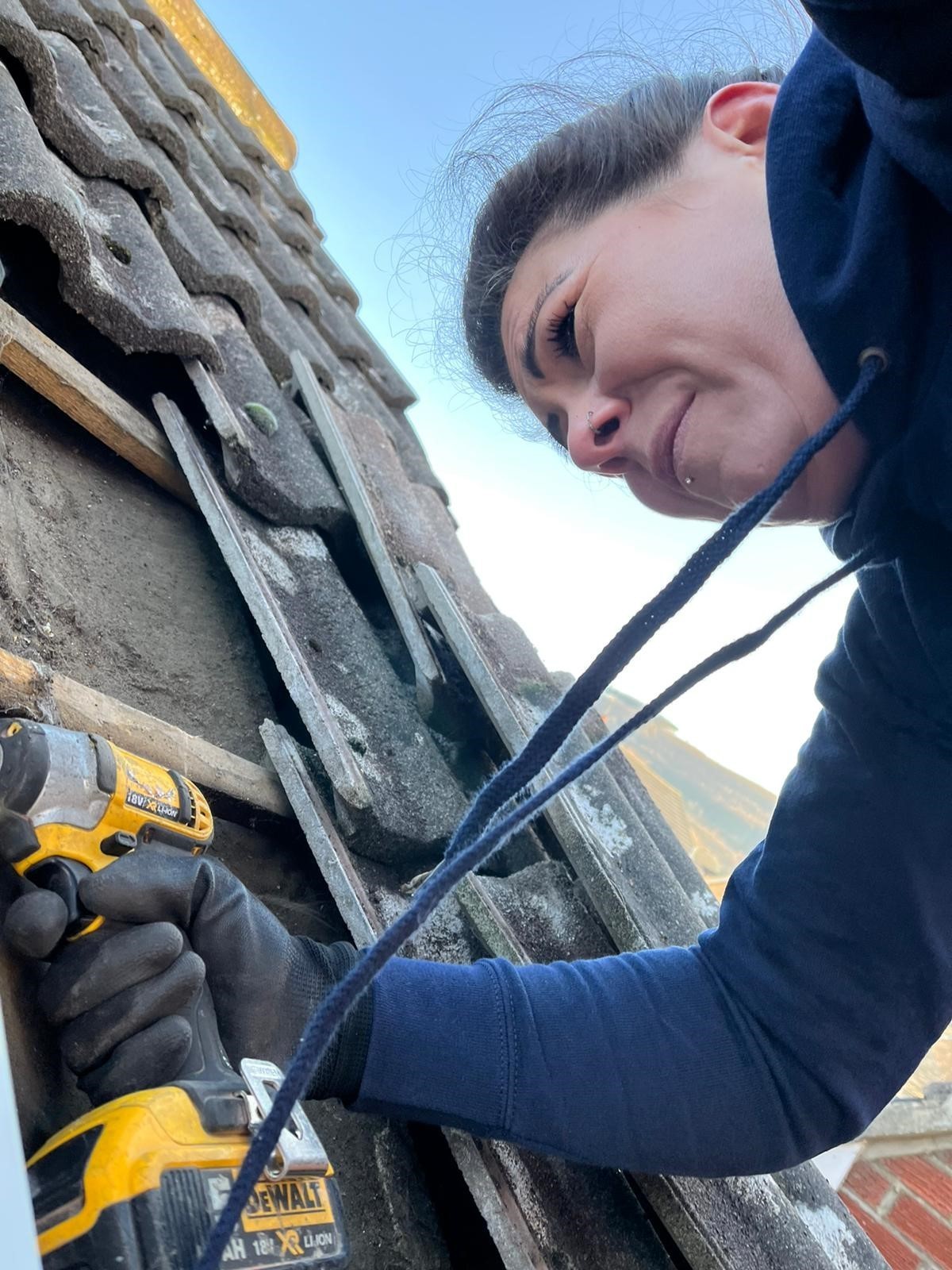 Only 10.9% of those working in the construction industry today are women, but Joanne strongly believes there are no barriers to more entering the profession: "I've received nothing but support from the men I work with. They have no issue with a woman joining their ranks at all."
Joanne can see benefits to being a woman in the industry: "I go into people's homes which is a position of trust and many female customers are reassured to see another women coming in her home to carry out this important work. In fact, I often end up having quite deep chats with customers as I work. And I also pride myself on leaving a room looking as good as when I came in – not all men I work with do that!"
The future looks bright for Joanne: "I'm getting to know the different windows, learning about invoicing and in time will move onto more problem solving – I want to be a window geek and complete surveys in time."
Sam Mason, Dakea's Internal Sales Support, says: "It's good to see that there's an increase of women working on site.  Jo is an inspiration to other women out there who want to move into construction."
Joanne says her new job as a window installation and repair technician with Blue Star Developments has made her happier than ever:  "My confidence is through the roof. I love meeting people and making a difference to their lives. I also love being in all the gear and holding a drill in my hand – I feel I'm doing it for women everywhere!"