The ​​Better Energy Roof Window range also provides better insulation, ideal for living areas such as bedrooms and home offices. The two-chamber design means less heat is lost in the winter and limits the amount of heat getting inside in the summer.
Find out more about the quality of our windows here.
Sustainable Materials
As well as good insulation, a truly eco-friendly house is one that's built from natural and sustainably sourced materials.
The best option is to use reclaimed or recycled materials – creating materials from scratch takes much more energy.
Straw bales are often used in eco-house building, as they're brilliant for insulation. Bamboo, wood and lime are also often used and work well.
Many people opt for reclaimed timber to form the internal features.
Our Conservation Roof Windows includes a beautiful wooden frame and is a simple but efficient way to add light, ventilation and insulation in an attic room or loft conversion.
Renewable energy
A renewable electricity supply is also vital for an eco-friendly home. A renewable energy source means energy that is generated from sustainable, 100% renewable sources like wind, sun, and water. It is renewable because it renews itself quickly – time and time again.
Some renewable energy sources include:
Geothermal energy
Hydroelectric power
Solar power
Wind power
Some eco houses generate their own electricity via solar panels on a south-facing roof. If your customer is in a particularly windy area, they can even look into wind power, or if they're near the beach, tidal power.
It's most efficient to add a way for the home to generate its own sustainable electricity, but using a provider with 100% renewable energy is a great backup.
A great way of making your house more environmentally-friendly would be to have your roof health checked against leaks or ageing shingles. These potential problems can affect your homes' heat retention and increase the burning of fossil fuels. For more information regarding this subject, feel free to read our article When to replace a roof today.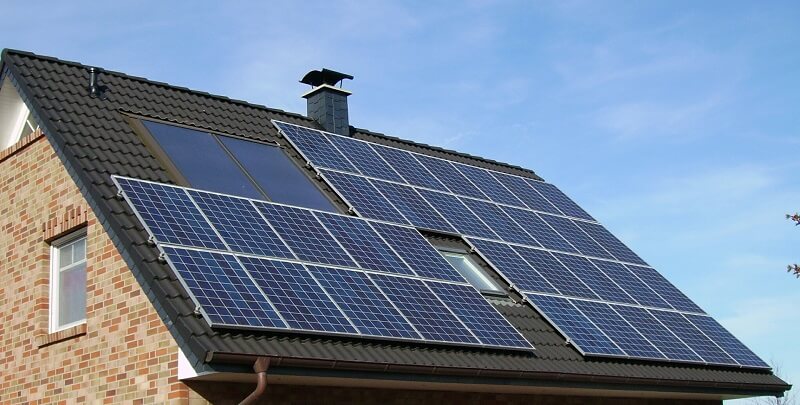 At Dakea, we are working with some of the biggest solar manufacturers in order to have flashing kits that work along solar panels on your roof. This means our roof windows can fit either alongside or within a panel of a solar PV installation.
This helps you to not compromise between reducing your energy bills, living sustainably and having a beautiful home.
Benefits of sustainable house design
The biggest benefit of eco-friendly homes is that they lower your environmental impact and carbon footprint. But there are a lot of other advantages to eco-homes. These include:
Lower energy bills
Innovative design
Reduced strain on local resources
Higher property value
How to make your home more eco-friendly on a budget
Building an eco-home from scratch is not always a must, sometimes simple home improvements can make existing homes more sustainable. Here are some eco-friendly home ideas:
Draught-proofing. Making sure there are no spaces where air is getting in can do wonders for insulation and saving on heating costs.
Getting a smart meter. Smart meters help you to save energy by showing you exactly how much you're using, and where it's going.
Getting a smart thermostat. Smart thermostats can help cut heating bill costs.
Getting an efficient boiler. Consider upgrading your old boiler to a new one to save energy
Switching energy supplier. More and more energy suppliers can offer 100% renewable energy.
If you have any questions about this article, you can view more on the Dakea website or go to our FAQs page.