Having a loft space comes in handy, especially when you work from home. Loft office spaces are versatile and can become the perfect environment. They offer a whole host of benefits like a short commute, but are still set apart from the rest of the house.
If you're struggling to think of some loft office ideas, whether you want to feel more settled or increase productivity, read on to find some useful loft office ideas from Dakea!
Build into nooks
If you want to maximise your office space, the best thing you can do is build into the natural nooks and crannies of the attic.
Is there some space in the corners? Add some shelves so you can put notebooks, pens and other office paraphernalia that won't take up desk space.
Not only does this save on space, but it also looks great and adds a unique element to your home office.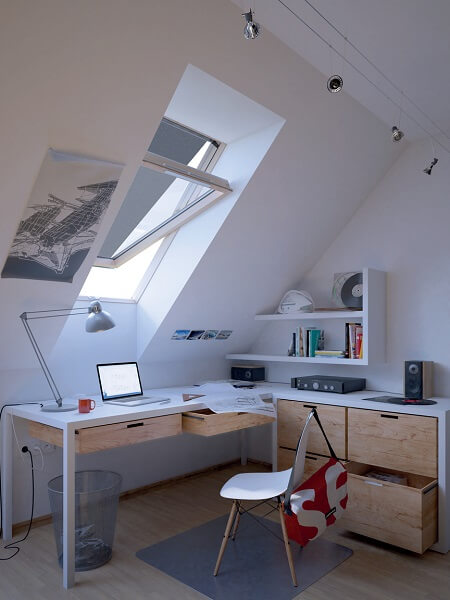 Inject some colour
It could be argued that a workspace that fuels productivity and creativity has lashings of colour on every surface (you're not going to get much inspiration from grey and black walls). Get some colour on the walls, floors and around your desk space.
If you don't want to repaint the whole room, you can place some colourful paintings or posters up on the walls, or a colourful rug on the floor. As well as this, add some colourful stationary around your workspace for a finishing touch.
You should be sure to colour coordinate so the loft doesn't look mis-matched and so that you enjoy being in it. You can look into colour psychology to discover the best colours for your work. For example, blue is great to encourage analytical thinking while yellows are ideal for harnessing the emotional response needed for creative work.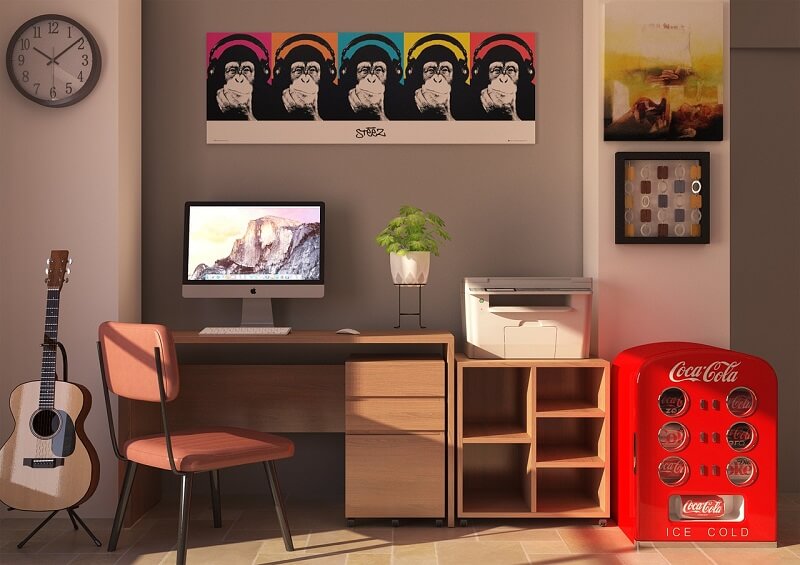 Add roof windows
​​Roof windows are a great way to bring in natural light and make loft spaces look more inviting. This bodes well when you're working in the loft, as the light will keep your body clock on track and make you more productive during work hours.
Roof windows also look great in lofts and add a unique element to your space. You can even add a blind that will go with your colour palette, in order to control both the light and temperature in the room.
Browse our range of roof windows or roof window blinds and find your local Dakea supplier.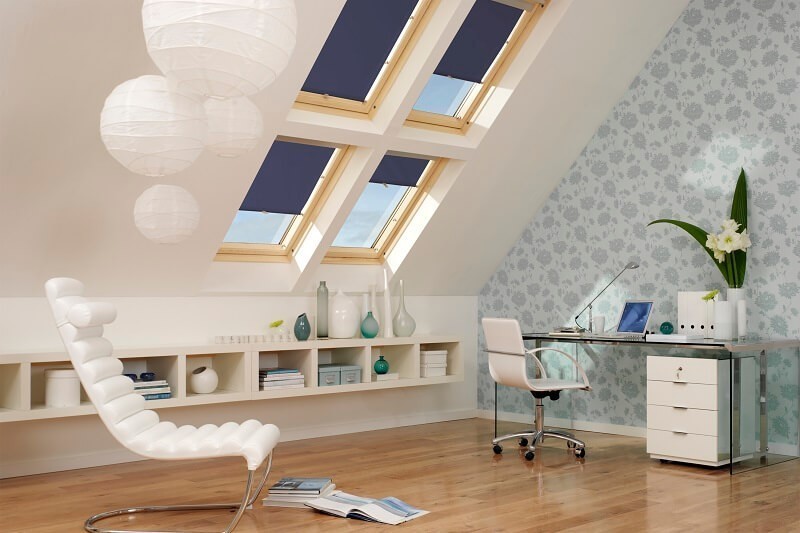 Stay slimline
The bigger the desk, the more room for clutter and flyaway bits of paper. To prevent your office becoming a magnet for mess in the house, go for a narrow, slim line design.
If you're mainly working at a computer or laptop, the actual workspace doesn't have to be very big. The slimline solution also avoids the desk impinging too much on the rest of the room. This leaves room if you want to use the space for other things the rest of the time.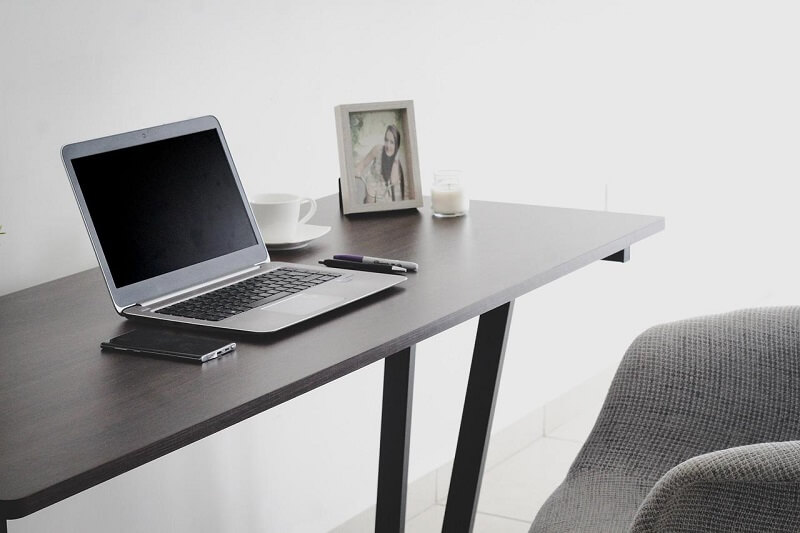 Open up for collaboration
Opposing the above idea, there is a tendency in any office space to position the desk up against the wall. However, you could place the desk in the middle of the room.
Breaking free from the wall makes space for useful storage instead, and opens up the room for collaborative working. If you are working with other people in your loft office then you could work at a bigger table in the middle and store everything else on shelves or cupboards against the walls.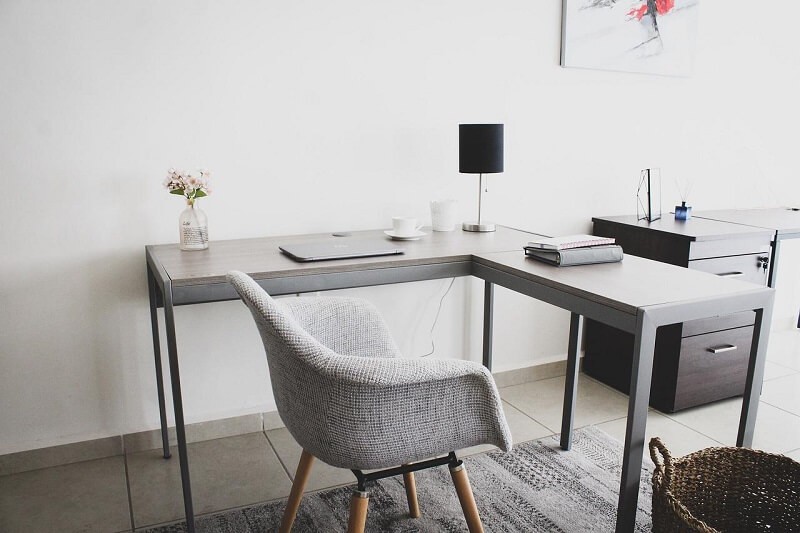 Multi-task the room
Many home offices double as a spare bedroom. Why not add a pull out bed for guests when the working day is over? You could add under bed storage or use a sofa bed to really maximise your space.
Your loft office doesn't have to stop at that. It can be a multifunctional room for whatever you want!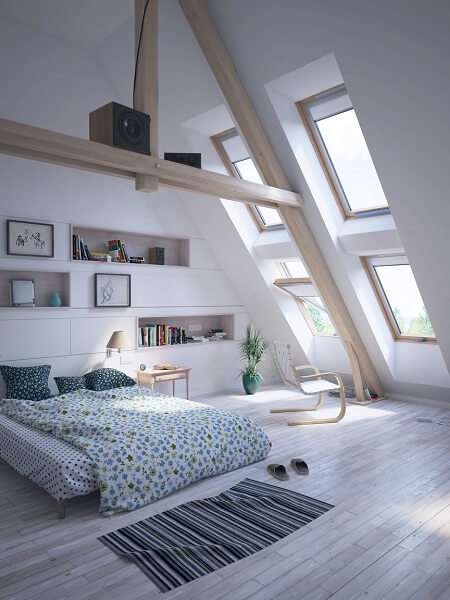 If you have any questions about this article and want to know more about our roof windows, contact Dakea here.