As of October 1st, 2020 Krzysztof, Dudek has assumed the Chief Executive Officer role for Altaterra, succeeding Krisztian Meszaros, who has stepped down to assume a new management role within VKR Group.
Krzysztof has been part of the Altaterra team for 14 years, beginning his career in the sales department in Poland, before being promoted to various country and regional sales management roles. Since 2010 Krzysztof has been a Managing Director of Altaterra Polska. From 2012, Krzysztof has been responsible for sales management in the CEE region, and from 2019 he also managed DACH, Balkans, Baltics and Export countries. Under his leadership Altaterra has significantly improved performance in the above regions and gained market share.
Krzysztof comments "During my time at Altaterra I have had the opportunity to take on various sales and management roles that has enabled me to gain an understanding of our customers' needs as well as our various internal operations, and I am proud to work for a company that enables employees to develop as the company grows. If I look a couple of years back in time it is amazing to see that every little step that we are taking can have such a huge impact on the company development in the longer term.
Altaterra is more than a company to me. Our model company values, which define the way we work, have had a profound impact on me, both in business and my personal life. There is no better feeling in life than doing things that are good for those around you. Following our values, we will therefore continue our efforts to bring affordable daylight solutions into people's lives and provide total customer satisfaction. I am proud to have had an opportunity to contribute to our vision so far and I am looking forward to what is ahead of us.
In recent months, we have managed to weather the storm caused by COVID-19. We have adapted and worked closely together with our partners to come forward with recovery plans. As a result, Altaterra today as a business is in a better condition, with stable financial performance, wider product offering and a more sustainable approach to doing business than ever before. We have managed this progress despite the recent global challenges, which are particularly exceptional. With that in mind, I would like to thank all our devoted and hardworking employees and our loyal partners for being with us on this journey.
However, despite our strong performance during this period, there is still a level of uncertainty regarding the future. This uncertainty will stay with us into 2021 but I am confident that demand for roof windows and accessories will remain strong as people either look for new homes or to improve existing ones. Our agility and ability to respond to changing customer needs will continue to be a priority for Altaterra. Going forward, we will continue to invest in areas that enable us to grow, develop as a business and remain a committed partner.
I am thrilled and looking forward to building our future together." – Krzysztof Dudek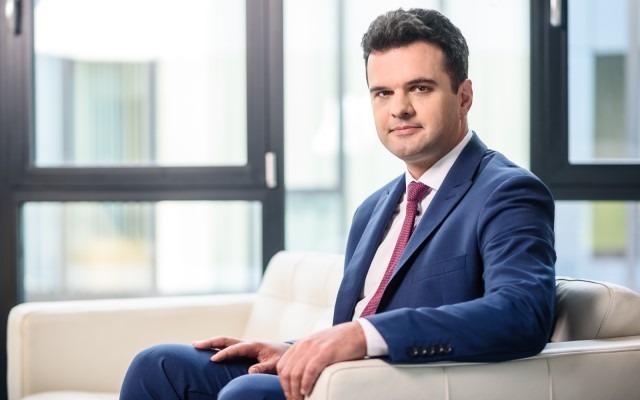 Krzysztof Dudek (39) born in Warsaw, Poland. Graduated with a Masters degree from Warsaw University, joined Altaterra soon after in 2006. Married with two sons, age 10 and 11.
Altaterra, part of VKR Group, was founded in 2001. Today, Altaterra is a European market leader within the private label segment, and proud owner of Dakea, a brand designed for smart professionals. With sales in over 30 countries, company employs 120 employees from 12 nationalities across Europe, supporting the customers in all major markets.