It All Starts With a Plan
Before you can start your roofing company, you need to put a business plan in place. Writing a business plan can seem complicated, but it's actually quite simple. Your business plan needs to include the following elements:
Where you are and your vision for the business

Realistic and specific goals for your business

Your customer profile – are you going to work for individuals, businesses, both?

Your main competitors

Your finances and how you intend to fund your business

Market analysis

Your marketing plans
Business plans are key for a number of reasons. Firstly, it gives you an idea of what you want to achieve and whether it's realistic. Secondly, it's required if you want to get a business loan from a bank or the government. Finally, it allows you to see any issues that your business may encounter in advance.
Get Qualified
While you don't necessarily need to be qualified to work as a roofing contractor, it might reflect badly on you if you're not. Being able to list qualifications on your adverts will foster confidence in your potential customers. 
For instance, if you've completed an intermediate or advanced apprenticeship, mention this on your advert. Similarly, if you've completed a Level 2 or 3 Diploma in slating or other roofing occupations, mention this. Getting an NVQ is a fantastic way to bolster your profile and attract new clients.
Register Your Business
Now that you've got a plan, and you're qualified, it's time to register your business with the government. This is an important step to complete before you start work, as you'll need to have registered to pay tax and national insurance. 
While there are several different types of company structures you can register as, you'll likely register as either a sole trader or a limited company. Both of these have pros and cons, so let's take a closer look to help you decide which is right for you.
Sole Trader
Setting up as a sole trader is the easiest way to tell the government that you're self-employed and is very common. Being a sole trader means that everything in the company belongs to you, and it's not legally distinct from you. You don't need to split profit with anyone and it's easy to register as a sole trader with HMRC. 
However, there are downsides, the most significant linking back to the business not being distinct from you. If your business goes into debt, you are responsible for those debts – you have unlimited liability. If someone sues your business, they will be suing you directly, and you'll be on the hook for any legal penalties. 
Limited Company
A limited liability company, commonly known as a limited company, is a little more difficult to set up, but has some fantastic advantages. Instead of simply registering with HMRC, you'll need to register with Companies House. A limited company also needs to pay corporation tax on any profits, and you'll need to set up payroll to pay yourself a salary, as well as paying income tax and national insurance for yourself and any other employees.
This all sounds very complicated, but once you're up and running, you'll find one massive advantage right away: as the company is distinct from you, you are not (in most circumstances) responsible for its debts. If someone sues the company, they are not suing you as an individual.
If you're not sure whether a limited company is right for you, don't worry, you can always change your company's structure later on.
Getting Insured
Being insured is one of the most important aspects of learning how to run a roofing business. There's only one form of insurance that is compulsory, Employers' Liability insurance, which you must have if you're an employer. However, this isn't the only insurance that you should have.
For instance, public liability insurance is a vital safety cushion that will cover liability towards customers and members of the public, as well as any third parties that you work with.
Buying Equipment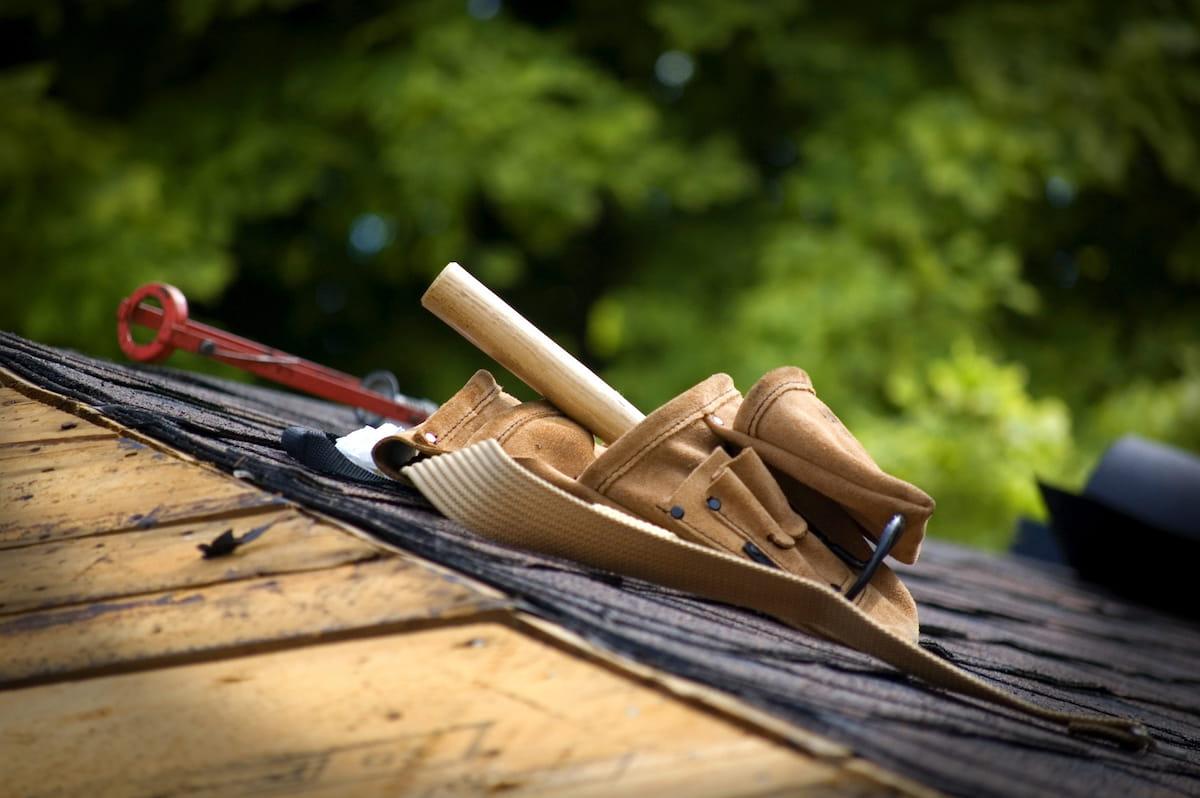 Now that you know the basics of setting up, it's time to get into the practical side of starting a roofing business. You'll need to buy equipment to perform your job – while you might have some of these, consider this a checklist for your business:
Finding Work
If you've always been an employee, it can be tricky to know how to find work. Thankfully, it doesn't need to be hard. 
Advertising your business online, on noticeboards and in local newspapers is a great way to spread the word about your company. You should also keep an eye on buildings in your local area, such as homes, pubs, schools, and council buildings. If you notice any flaws in their roofing, don't be afraid to reach out to them with your contact details.
It's a good idea to create social media accounts for your business, showing off any work that you've done. You should also create a business website or hire someone to do so, this is essential in modern business.