A garage loft conversion can be a cost effective way to add extra space to your home. Whether it's to increase its value, make way for an at-home gym, or even to rent it out, a garage conversion can be a great idea.
They rarely require major structural changes, making them more cost effective than other conversions or extensions.
Skip down to garage loft conversion ideas, or keep reading for loads of information about planning for your garage loft conversion.
If you want a light and well ventilated conversion, check out our roof windows!
What is a garage loft conversion?
A garage loft conversion is a way to transform unused loft space in your garage into a usable room, usually without any major structural changes.
The main difference between a full garage conversion and a garage loft conversion is that the main garage room will still function as before, but it creates an additional floor of usable space above.
Benefits of a garage loft conversion
The benefits of a garage loft conversion include:
Improved property value
More space in your home
Lots of design options
Usually don't require planning permission *
Less costly than other extensions
Low risk of error – as it's a simple construction
Relatively fast to construct – compared to extensions or conversions that require structural work
Unlikely to impact council tax *
* True of most garage loft conversions, but be sure to check.
Do I need planning permission for a garage loft conversion?
You are unlikely to need planning permission for a garage loft conversion. Provided it doesn't require structural changes, which most don't, it should be covered by permitted development. However, it's always best to check with your local authority first.
It can also be a good idea to apply for a Lawful Development Certificate. These are helpful when it comes to selling or remortgaging your property in the future to prove the conversion is legal and permitted.
How much does a garage loft conversion cost?
A garage loft conversion is likely to cost £10-20k, depending on the size of the garage and many other factors, including whether you want a full conversion, or just a loft conversion. If it needs structural work or you want to include plumbing, for example, it's likely to cost the upper end.
The cost will depend on:
The state of the current garage
Design
Plastering and insulation
Flooring and wall coverings
Electrical supply
Stairs or other access
Roof windows
Plumbing if needed
Planning permission if needed
Be sure to also budget for furnishing and decorating the completed conversion!
Key things to plan for a garage loft conversion
While they'll be many aspects you can adjust as you go along, or even work on afterwards, there are some key considerations to plan in advance when you're undertaking a garage loft conversion.
Budget
Budget is vital to plan. Talk to a professional to get a quote to make sure you can afford the conversion. You might be able to pay in instalments, but you need to plan in advance so you can see it through to completion.
Intent for the conversion
Knowing what you intend to use the conversion for could inform key design considerations. For example, if you want to have it as an annex, you might want to plan in a small bathroom. On the other hand, if it's going to be an art studio, you'll need to plan for plenty of natural light.
Access
Planning how you want to access the room is essential. If it's going to be a utility room, you might want a proper staircase so you can safely carry up washing! On the other hand, if it's going to be a teen hangout space, a pull-down ladder might work just as well.
You'll have to talk with your design and construction team to work out the best solution for your budget, space and needs.
9 garage loft conversion ideas
There are many different ways you could use your garage loft conversion! Here are 9 ideas to inspire you.
1. Games room
Whether it's for the kids or yourself, a garage loft conversion makes a great games room. They're usually off to the side of the house too, so you don't have to worry about making too much noise when the game of air hockey gets intense.
You could also use it to watch the game too. Just fit with a wide screen TV and sound system and it's the perfect space to hangout and watch the footie.
2. Guest room
A bright and comfy guest room is essential if you love hosting family or friends from far afield. A garage loft conversion is a great option as it creates space away from the main house so your guests can get some privacy.
A neutral colour scheme is usually a good idea to make sure everyone feels comfortable. Provide some clothes storage space and, of course, a cosy bed.
It would be a good idea to add a small bathroom to the conversion too so you guests can enjoy an en suite.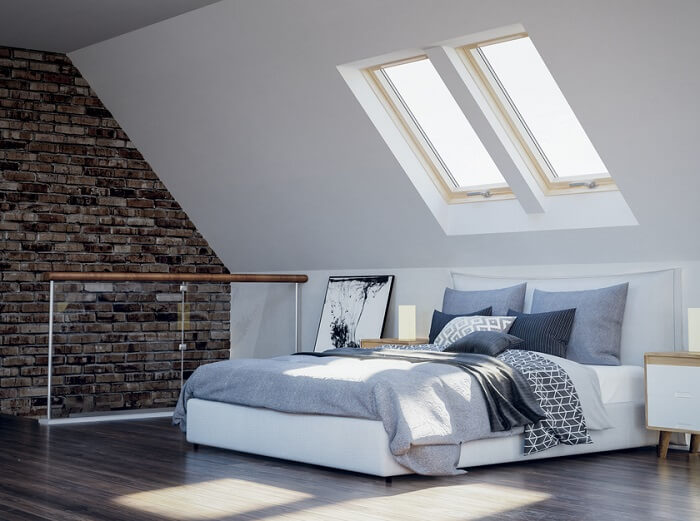 3. Home office
A home office is an essential for any remote worker. It needs to be bright to encourage productivity, as well as quiet and functional.
A garage loft conversion makes for a great home office when separate from the house – you don't have to worry about busyness around the home interrupting your work flow.
Keep the colour scheme light and consider some vivid highlights to encourage creative thinking.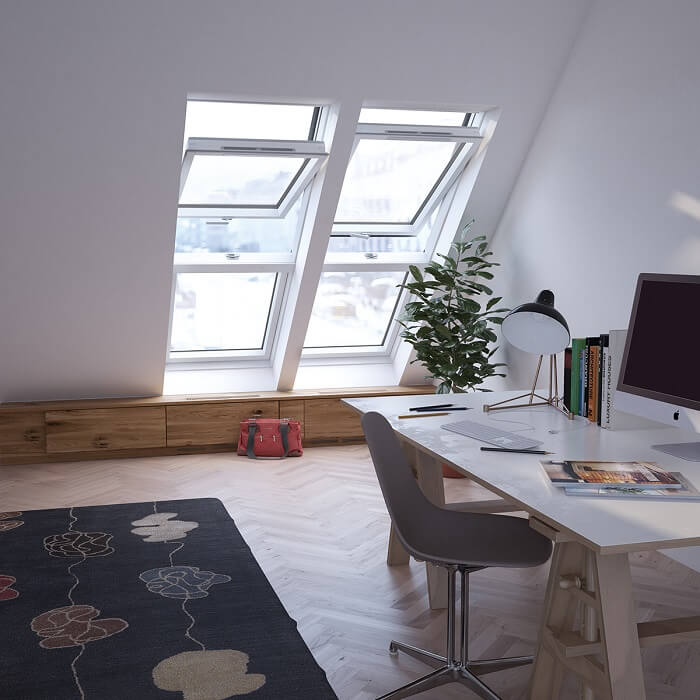 4. Art studio or hobby room
Garage loft conversions can make great art studios. With the right roof windows, they'll have plenty of natural light to help with making art. If you want to maximise the light in your room, try using multiple, smaller roof windows distributed evenly around the space.
If art isn't your thing, you could create a writing den, craft space or photography studio. Whatever your hobby, a garage loft conversion could provide the perfect space to exercise your creativity.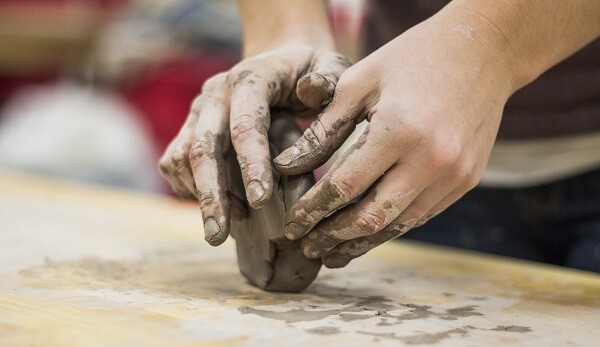 5. Storage space
Whether it's a collection of clothes or antiques, a garage loft conversion can host all sorts of items you need to store. If you've always wanted a walk-in wardrobe, this could be the perfect opportunity!
It's essential that the room is well insulated if you're storing things. It otherwise could be at risk of damp, which could damage your belongings.
Be sure to choose insulative roof windows, proper floor and roof insulation and make sure the heating is on in winter.